Summer Solstice and Pride Event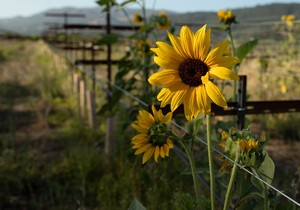 *This is a completely free event, please just RSVP to Emily at emily@ecoterreno.com
Sunday June 11tth
10:00 AM - 12:30 PM
Eco Terreno Wine Farm
28197 River Road, Cloverdale, CA 95425
We are an LGBTQ owned and operated company on a mission to heal the earth while creating delicious wines. We like to take any chance we get to share our passion with our wonderful supporters. From our vineyard to our San Francisco spaces we choose to operate with respect and reverence to the land while raising awareness for those in need. From the very beginning we made a promise to become a part of the solution, as opposed to part of the problem.
We invite you to join our team for a morning of education and getting your hands dirty. Come learn and share ideas about environmental stewardship, what social responsibility means to us and little ways you can make a difference at home.
We will start the morning with coffee and pastries then continue into a tour of our vineyard and production garden. Of course there are wine stops along the way including our Pink Pride Rosé and Climate Conscious Cabernet Sauvignon. Vineyard Manager Nicole Tracy, will be talking about our Biodynamic® farming practices, bee garden, and environmental goals. Then you will get the chance to put your new knowledge to the test and take part in light gardening activities around the vineyard.
All participants will be sent home with a little gift from our garden!
*This is a completely free event, please just RSVP to Emily at emily@ecoterreno.com